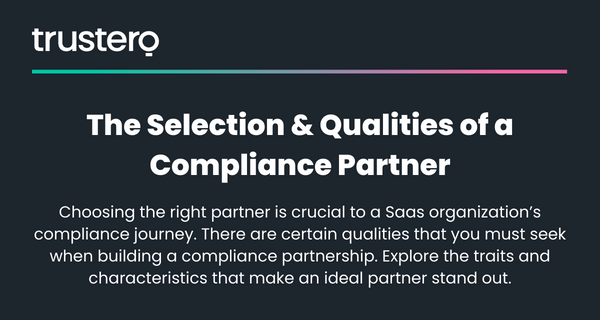 The Selection & Qualities of a Compliance Partner
A compliance partner should possess a variety of qualities to be effective in their role. Selecting the right compliance partner is critical for ensuring that a SaaS organization remains compliant with relevant regulations and laws. When selecting a compliance partner, here are some key factors to consider:
Expertise and experience:




Look for a compliance partner who has experience working in your industry and has a thorough understanding of the specific regulations that apply to your SaaS business.

Knowledge of regulations:




Compliance partners must have a thorough understanding of the regulations that apply to their organization. This includes keeping up-to-date with any changes pertaining to regulations and understanding how these may affect the business. Industry knowledge in today's corporate world is key. A company that deals with audits, compliance and regulations must be familiar with new reforms, laws, government acts, and changes to even the smallest clauses to make sure that the organization remains legally sound and secure against any losses or consequences.

Reputation:




Research the compliance partner's reputation and history of dealing with clients. Look for references and testimonials from previous clients to gain a better understanding of the way they operate.

Compliance framework:




Ensure that the compliance partner has a comprehensive compliance framework that is aligned with your organization's values and goals. This includes policies, procedures, and processes that are tailored to SaaS-specific needs.

Communication:




Select a compliance partner that understands the importance of clear and regular communication. They should be able to provide updates and reports on compliance activities, be easily accessible, and responsive to questions or concerns when needed. Compliance partners must have excellent communication skills to effectively communicate with stakeholders, including employees, regulators, and other external partners.

Tech & tools:




As the world goes digital, any company that isn't leveraging the power of technology must be prepared to be left behind. From cybersecurity to AI, cloud-based data services to encryption, sophisticated software to the latest equipment – it is crucial to be able to accept changes, and to be able to understand them. Look for a compliance partner that stays abreast with the latest in technology and tools to streamline and simplify compliance activities. By implementing advanced tools, partners can provide real-time insights into compliance risks and issues, thus keeping businesses audit-ready through changes in day-to-day operations.

Trouble-shooting skills:




Problem solving and troubleshooting exist at the heart of auditing – and those that solve problems, must be able to do so with innovation and thinking outside the box. As processes and demands evolve, partners should always be prepared to provide clients with advice and assurance using a forward-thinking approach. Compliance partners must be able to identify potential compliance issues and develop strategies to address them individually. They should be able to think critically and develop creative solutions to complex compliance problems.

Cultural fit:




Ensure that the compliance partner's values and culture align with your organization's culture. A strong cultural fit will guarantee that the compliance partner is able to work effectively with your executive teams to become a trusted partner.

Cost:




While budget should not be the sole determining factor, it is important to consider the cost of engaging the compliance partner and whether it reflects in worth and quality, the services they provide. Therefore, it is important to choose a compliance partner who offers transparency and competitive pricing. It is also wise to conduct a market survey prior to opting for a partner.

Ethical values:




It is important for compliance partners to have a deep commitment to ethical behavior and a strong sense of integrity. This is critical to ensuring that an organization operates within legal and ethical boundaries.

Commitment to continuous improvement:




Compliance partners must be committed to continuous improvement and staying up-to-date with best practices in compliance. This includes attending training and development programs, networking with other compliance professionals, and staying abreast of industry developments.

Collaborative approach:




Compliance partners must be able to work cohesively, collaboratively with other departments in the organization to ensure that compliance policies and procedures are integrated into the business operations. The company's internal policies merged with industry-specific laws and regulations must be embedded within the processes, goals, and code of conduct at every level to ensure a streamlined journey to compliance.
The word 'partnership' is self-explanatory. It refers to performing as a team – cohesively, proactively, and efficiently. A partner in compliance must be team oriented, sharing the common goal of providing unsurpassed quality services – always keeping the clients' success in mind. Above are a few of the qualities that you should seek in a partner to help your organization succeed on the path to seamless compliance. It is important to keep in mind that the partner company that you build an association with, represents the quality of your work, your ethics and integrity, and what you stand for. Make sure you choose a partner that can mirror your company's goals and beliefs.
The auditing and compliance industry can seem complicated and intimidating at first, but with the right knowledge, presented by the right group of professionals – it becomes easy to navigate. If you are interested in saving time and money during audits, be sure to attend Trustero's 'The Benefits of Compliance as a Service' webinar coming soon.