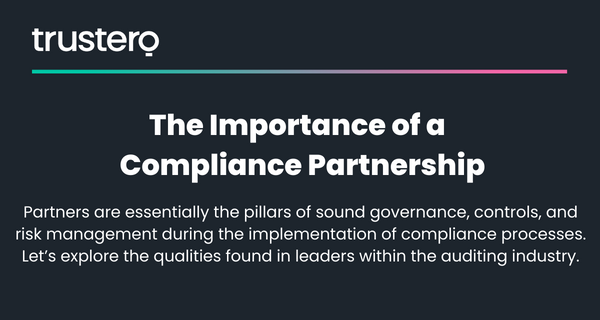 The Importance of a Compliance Partnership
Partnership is crucial to the compliance journey of any SaaS organization. As a company goes through an auditing process, partners become flag bearers of sound governance, security compliance, and risk management. These are a few qualities found in leaders within the audit industry.
With companies now opting for all things digital and technologically advanced, little or no regard is given to the soft skills and personality traits. Auditing and compliance is a field that requires professionals to constantly think laterally, analytically, critically, and diplomatically. Thus, the spectrum of skills required to become the ideal partner is a unique and vast one. As a general rule of thumb, it is a versatile skill set that includes both technical as well as soft skills, that can guarantee success and a seamless audit experience for all parties involved in the process.
A partnership of trust and strategy:
Management and audit partners are geared towards assisting an organization with achieving and successfully executing their objectives. With the help of analytical data and the right set of tools, they ensure that the company meets all legal, regulatory, ethical and financial compliance requirements in order to be able to carry out operations in a more secure, seamless manner. During every phase of the process, it is critical for the management and partners to be fully aligned with the purpose of the corporation, and everything it requires to move forward in the industry.
Risk management and mitigation:
Taking risks is, ironically, risky business.
Countless reports have demonstrated how professionals in the auditing and compliance industry take risks on the organization's behalf, without fully understanding the company's capacity for it.
Effective, calculated risk management directly impacts and influences internal controls. Managing these controls is the key to efficient integration, and a smooth path to compliance. A good partnership means that you will be able to explore and assess all the risks stemming from a company's business and strategic objectives.
Another important aspect is the prioritization of these risks. By establishing a triage, risks can be connected with the right internal controls. With this data in place, auditors can then follow a carefully designed roadmap that mitigates these risks, eliminates factors that prevent controls from operating optimally, and ultimately guides an organization towards prime performance.
Benefits of an ideal compliance partnership:
- Determining and achieving the right metrics that can propel companies towards their goals.
Why is this important? Deriving performance and goal analytics, keeping finances and growth statistics in check can provide executive teams with all the information they need to take necessary actions.
- Establishing operations in accordance with set industry standards and compliance regulations.
Why is this important? Meeting a set of governance laws and regulations is critical for risk management, prevention of legal consequences, maintaining security, protecting sensitive data, and managing operations in a standardized manner.
- Creating opportunities, tools, and methodologies that promote and facilitate optimal performance.
Why is this important? Internal audits and the entire process of achieving compliance helps organizations prioritize the solutions and tools that are needed to boost performance, from individual employee level all the way up to company level.
- Creating and opening channels of communication, thought sharing, and advice for all parties involved in the process.
Why is this important? Open communication between executive teams, auditors and compliance partners can help make the journey more efficient and beneficial to operations. This helps in determining the company's goals, and whether all efforts are in motion to achieve them.
- Endorsing accountability and the adoption of ethical universal standards of operation.
Why is this important? Adopting standards that are recognized either on national, or universal standards speaks volumes about an organization. Trust plays a critical part in the success of a business - and customers can only trust the products and services of a business if the company firmly stands by compliance laws.
- Promoting lateral thinking, troubleshooting, analytical problem solving, and smart risk management that can be incorporated within the internal processes of a company.
Why is this important? Timely management and assessment of risks, security threats, and legal/ethical issues can save the company a great deal of money and effort. This is the crux of compliance. With the right systems in place, it is possible to detect any threat to the safety, security, and survival of the organization in the industry.
- Successfully measuring the vulnerabilities of an organization and addressing them to accelerate growth and profitability.
Why is this important? Compliance means determining the vulnerabilities that exist at each level of the organization, and addressing them individually.
- Reduce cost of risk management.
Why is this important? No matter how big or profitable an organization may be, management of risks, legal issues and operational deficiencies at the eleventh hour can put a significant dent in the company's budget - not to mention the time and effort that goes into allocating additional resources for managing these issues. Compliance helps identify and solve anything that can trigger a negative flow of finances, resources, and of course an impact to the company's reputation.
- Defining the right controls that play a crucial role in risk management for organizations.
Why is this important? Determining and achieving access to the controls an organization needs for a specific compliance framework plays a vital role in the process of getting audit-ready.
- Introducing transparency in all aspects of reporting, accounting, finances, security, and data management.
Why is this important? Transparency in reporting and data management has a direct impact on organizational controls. With an open view of the company's performance over a period of time, employees and executive teams can implement changes needed to move further ahead and excel in the industry.
Trustero's role in revolutionizing compliance processes for SaaS businesses:
The partner you choose represents your company's ethics and objectives. Teams that perform cohesively are the ones that can help organizations grow by leaps and bounds.
Our use of AI and automation sets us apart from competition - we strive to make sure that your compliance journey is as easy, cost-effective, and effortless as it can get.
If you wish to learn more about streamlining auditing procedures and automating your compliance processes – you may want to sign up for the upcoming Trustero webinar on The Benefits of Compliance as a Service where you can take a deeper dive into the world of compliance, and the advantages customers can reap from the implementation of CaaS. Get in touch with our team today!