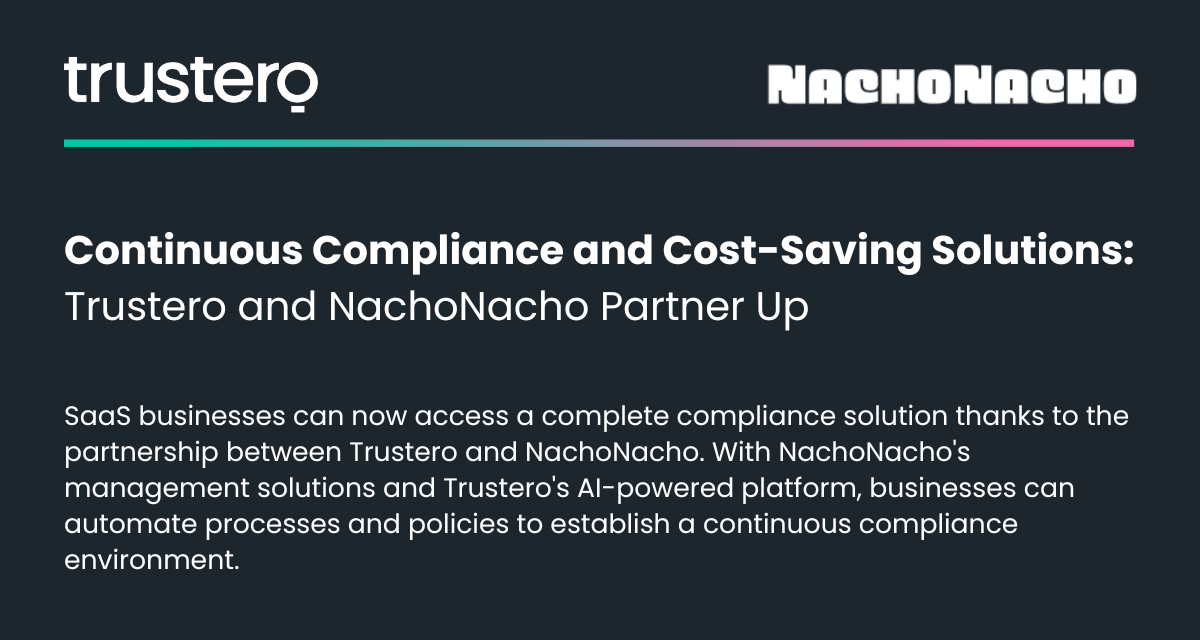 Continuous Compliance and Cost-Saving Solutions: Trustero and NachoNacho Partner Up
Trustero, the leading provider of Continuous Compliance solutions for SaaS businesses, is excited to announce our partnership with NachoNacho, the innovative SaaS marketplace that offers a range of management solutions, cost-savings, and integrations. NachoNacho boasts a diverse client base of startups, mid-sized companies, and agencies.
At Trustero, we are proud to offer a modern, cloud-based platform powered by AI and LLM to help SaaS businesses automate and integrate processes and policies that align with framework regulations and standards. Our platform is designed to establish a continuous compliance environment within organizations, and we provide everything from ready-to-use templates to AI-generated suggestions to ensure and to live up to our promise of being the only CaaS provider that assures compliance to all customers.
Whether you need to obtain a SOC 2 certification, finalize your Information Security Management System (ISMS) for ISO 27001, or simply set up compliance efforts to prepare for audits, Trustero can help. We have solutions that cater to every size of SaaS company, from start-ups to enterprises. Join forces with Trustero and NachoNacho to streamline your compliance efforts and drive success for your business by checking out our product page.