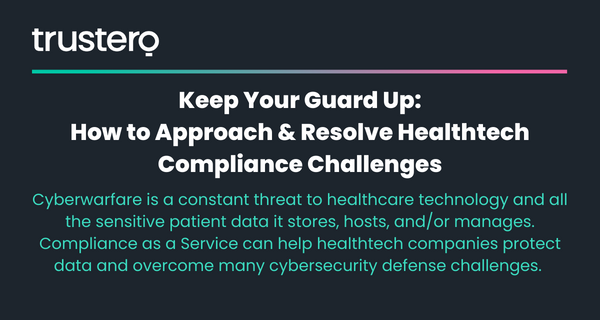 Keep Your Guard Up: How to Approach & Resolve Healthtech Compliance Challenges
According to a recent survey*, a clear majority of all cybersecurity attacks that were reported from around the world, were found to have targeted healthcare and industries directly associated with it. This is not a shocking revelation, considering how much data and sensitive information is stored on platforms, software, and cloud technology serving the healthcare space. The numbers are expected to continue, or even rise as cybercriminals and malware become more and more sophisticated and robust.
Technology today faces a massive challenge of constantly being able to cancel out the evil with the good – but it's easier said than done. Malicious software targeted towards disrupting operations, stealing data, misusing patient information, and committing theft has seen an almost virus-like multiplication pattern. The number isn't as big a concern as the sophistication. These software can detect even the most miniscule of loopholes and lapses within the cybersecurity defense to infiltrate within a matter of seconds.
Top policy: Hope for the best, prepare for the worst
Healthtech includes software, portals and platforms facilitating patient care and/or payments, application of artificial intelligence to various procedures and medical devices, telehealth, and health monitoring systems, to name a few. With the constant, colossal security threat enveloping the healthtech space, companies must rise to the challenge and implement changes that can create additional layers of protection for sensitive data.
Healthcare SaaS/Healthtech Compliance Challenges
Following are some of the most prominent compliance challenges that healthtech faces today, and how they can be addressed:
Challenge 1: Hesitation and Skepticism towards Digital Maturity
The leadership at healthtech organizations must come into terms with the seriousness of the security threat surrounding them. This alone should push them towards digital maturity and taking steps in the right direction to adopt better technology, upgrade systems, update cybersecurity defense and implement cybersecurity compliance regulations at all levels. Organizations that stubbornly remain loyal to dated legacy systems are most likely to fall prey to attacks, theft, and damage.
Solution: Technological advancements and axing legacy systems
Dated systems are perhaps the greatest of all vulnerabilities at healthcare SaaS organizations. The first step in this case should be the allocation of separate resources, departments and budgeting towards IT. With a dedicated team that is always on the lookout for better systems, more robust software, and resilient data defense technology, companies can stay one step ahead of cybercriminals.
Challenge 2: A shaky relationship with compliance
At Trustero, we firmly believe that compliance is a journey, not a one-time goal. Companies that see compliance as something that you achieve following an audit period, and then forget about it till the next, can potentially become prone to cyberattacks. Compliance within the cybersecurity space can save healthtech from breaches that target sensitive data and patient information.
Solution: Compliance in day-to-day operations
When compliance regulations become a part of a company's culture and day-to-day operations, the need to make critical changes at the eleventh hour vanishes from the picture. HIPAA is not the only law that covers the healthcare space – healthtech and healthcare SaaS organizations must look into frameworks like ISO 27001 and NIST to streamline their processes and to strengthen their cybersecurity defense.
Challenge 3: Delayed risk assessment, or the lack thereof
Let us circle back to challenge 2 for this one – risk assessment is at the very core of all compliance regulations and pathways. Organizations that do not dedicate time and efforts towards conducting routine risk assessment of all operations, processes, and services may have to bear the consequences of non-compliance and the financial, reputational, and security-related damages that come with it. Risk assessment is a constant learning opportunity for companies. To learn is to improve, and to improve is to adapt.
Solution: Routine vulnerability scans and risk assessments
Compliance officers and senior leadership at healthcare SaaS organizations should conduct risk assessment routinely as part of the operations, and not a formality included within the process of a compliance framework. This can expose a company's vulnerabilities and weaknesses, giving leadership ample time and opportunity to develop/implement processes that can eliminate these risks.
CaaS – the band aid that covers all healthtech compliance challenges
Implementing compliance as a service should be the first step that healthcare tech companies dealing with sensitive patient information take to address various challenges. Trustero CaaS is a unique AI powered platform that helps companies get compliant, and stay compliant in the most efficient, seamless and cost-effective manner possible. Learn more by scheduling a demo today!


*Cybersecurity survey link source: https://www.himss.org/resources/himss-healthcare-cybersecurity-survey