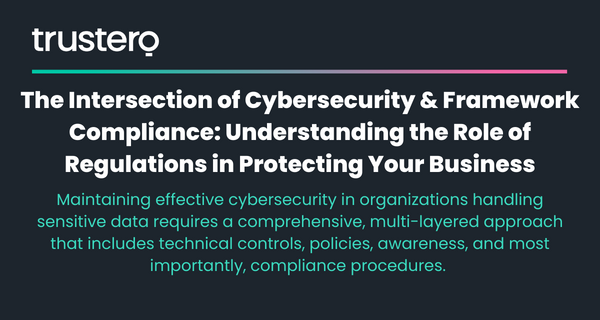 The Intersection of Cybersecurity and Framework Compliance: Understanding the Role of Regulations in Protecting Your Business
An introduction to Cybersecurity:
There has been a great deal of conversation around the subject of cybersecurity and how it impacts our daily lives for several decades now. But what exactly is it, and why is it important? Cybersecurity involves all the practices geared towards protecting computer systems, networks, cloud computing, and sensitive information from unauthorized access, malware, ransomware, data breaches, theft, damage, or disruption.
It includes a wide range of processes, tools and technology that are constantly being modified and upgraded to match the level of threat that they protect against. It is important to understand that as beneficial technology undergoes advancement, so does technology and software that is created to serve more adverse, destructive purposes.
Cybersecurity may have been around since the late 1980s but has picked up pace in recent years. This is because cyber threats have become more frequent, sophisticated, and damaging than ever before and are now capable of inflicting large scale financial losses, reputational damages, loss of confidential data or/and intellectual property. As a result, organizations are investing more resources in cybersecurity and compliance to protect their assets and to mitigate potential risks ahead of time.
One of the most fascinating and complex factors to consider about fields like cybersecurity, is that they are an ever-evolving, ever-changing landscape. This is why they require continuous learning, adaptation, advancements, and improvement to remain abreast with the sheer magnitude of threat surrounding them. Cybercriminals and software created to cause disruption and malicious activities are geared towards staying one step ahead at all times to exploit even the most minute of vulnerabilities, making cybersecurity a constant challenge for organizations and individuals alike.
Maintaining effective cybersecurity requires a comprehensive, multi-layered approach that includes, but is not restricted to, technical controls, policies, awareness, and most importantly, compliance procedures.
The relationship between cybersecurity and compliance regulations:
We know that compliance is the process of adhering to a set of standards, rules, regulations, and best practices that are applicable to an organization's operations. However, compliance in cybersecurity refers to the process of following regulations that govern and specifically focus on the protection of sensitive data and the security of systems and networks that host, store or manage it.
This makes compliance a rather critical aspect of cybersecurity because it assists organizations in meeting legal requirements, avoiding non-compliance consequences, and maintaining the trust of customers, employees and partners alike. Fields like cybersecurity are required not just to achieve compliance, but to maintain continuous compliance at all levels to ensure complete fortification of data and application of preventive, protective processes as part of day-to-day operations.
Some of the key cybersecurity compliance regulations and standards include:
General Data Protection Regulation (GDPR):

This regulation applies to all organizations that process or store personal data of European Union citizens. It requires organizations to implement appropriate technical and organizational measures to protect personal data and report data breaches to authorities within 72 hours.

Payment Card Industry Data Security Standard (PCI DSS):

This standard applies to all organizations that process credit card payments. It requires organizations to implement specific security controls to protect cardholder data and undergo regular security assessments.

Health Insurance Portability and Accountability Act (HIPAA)

:

HIPAA applies to healthcare organizations that handle and store patient data. It requires organizations to implement security controls to protect patient data and report any data breaches to authorities.

National Institute of Standards and Technology Cybersecurity Framework (NIST CSF):

This is a framework developed by NIST to help organizations manage and reduce cybersecurity risk. It includes a set of guidelines, best practices, and standards for cybersecurity manageme

nt

.

ISO 27001

:

This is a global standard for information security management systems. It provides a framework for organizations to implement security controls and processes to protect their information assets.

SOC1:

Service Organization Control 1, or SOC1 is a report that evaluates the internal controls that may impact client financial statements at an organization. It is widely used by businesses that offer services related to payroll processing, financial accounting, and data hosting.

SOC2:

Service Organization Control 2 is a standard that evaluates the effectiveness of an organization's systems and processes particularly those that are related to security, availability, integrity, privacy, and confidentiality.
The role of CaaS in streamlining Cybersecurity for organizations:
Compliance as a Service (CaaS) is a cloud-based service that equips SaaS organizations with the right tools, resources, processes, and expertise to ensure that their systems and data are protected against cyber threats and meet all framework regulatory requirements. In the field of cybersecurity, time is always of the essence. This is why organizations that deal with sensitive data seek compliance partners and platforms that can accelerate and streamline their path to compliance in the most efficient manner.
Trustero CaaS makes it possible for companies to achieve compliance across multiple frameworks. This is particularly beneficial for organizations looking to amplify their cybersecurity to meet industry-specific and international standards. Continuous compliance also facilitates executive teams with all the information and processes they need to implement changes from the ground level up, thus leaving no stone unturned in protecting data for customers, employees, and partners.