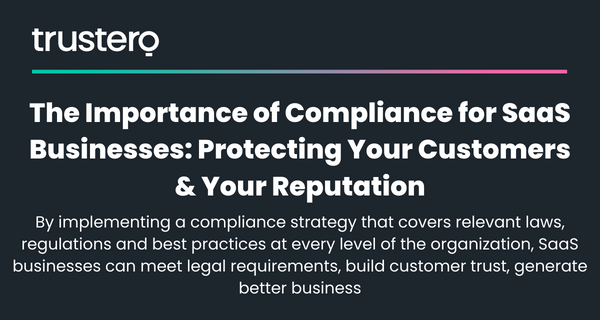 The Importance of Compliance for SaaS Businesses: Protecting Your Customers and Your Reputation
The relevance of compliance to SaaS businesses
SaaS (Software as a Service) companies are in the business of frequently handling, storing, and managing sensitive customer data. Compliance plays a crucial role in protecting and securing data, ensuring business continuity, and maintaining a good reputation in the industry.
Establishing a clientele on the basis of trust is at the heart of every business regardless of its scale of operation; and trust comes from meeting, and exceeding the customers' requirements through quality products/services. One of the ways in which delivering quality services and products can be made possible, is by adhering to legal and regulatory requirements that apply to this particular industry. By implementing a compliance strategy that covers relevant laws, regulations and best practices at every level of the organization, SaaS businesses can meet legal requirements, build customer trust, generate better business, gain a competitive edge, and manage risks more efficiently, and in a cost-effective manner.
Compliance as the cornerstone of success and survival in the industry
Let's take a deeper dive into how the implementation of compliance laws and regulations can help a SaaS organization thrive:
Legal obligations:

SaaS businesses must comply with various legal requirements, and failure to do so can result in hefty fines, legal penalties - and worst of all, reputational damage; something that many businesses never recover from. Compliance laws can prevent financial and reputational losses if implemented correctly throughout the organization.

Customer trust:

Compliance is essential in acquiring and maintaining customer trust. Customers have the right to know that the data they are providing to a company remains safe and secure, and that the SaaS provider is complying with relevant laws to ensure this. These laws push executive teams to explore and implement newer technologies and tools to safeguard data and to fortify all sensitive information that is being collected and stored on a day-to-day basis.

Competitive advantage:

Compliance can be a competitive advantage for SaaS businesses. Being able to demonstrate compliance with regulations and industry standards can help a SaaS business stand out from its competitors and earn the trust of customers, existing and new, in the process.

Stability and continuity:

Compliance is crucial for ensuring business continuity. Non-compliance can result in disruptions to business operations, which can lead to financial losses and delays in product/service delivery.

Troubleshooting & risk management:

Compliance regulations help SaaS businesses manage risk effectively. Compliance frameworks often include risk management requirements, which help executive teams and decision-makers in identifying and mitigating potential business risks.

Compliance certifications

:

Companies can obtain compliance certifications, such as SOC 2 (Service Organization Control 2) and ISO 27001, to demonstrate their compliance with relevant regulations and industry standards. This once again contributes to building trust, and providing customers with the assurance that their business is being managed in the most professional and ethical manner.

Data protection:

Compliance requires that SaaS businesses comply with data protection regulations such as GDPR (General Data Protection Regulation) and CCPA (California Consumer Privacy Act) to ensure complete privacy and security of their customers' data. This may mean implementing new technology and cloud-based services to prevent potential data breaches, and to add an extra layer of security that can man such threats.
Implementation of Compliance as a Service
Trustero Compliance as a Service (CaaS) establishes and maintains regulatory compliance by undertaking vulnerability assessments, security risk analyses, and various other measures to ensure that all business processes and systems remain fully compliant, during and after their audit periods.
Compliance is the foundation upon which a business can grow, excel, and succeed in its specific industry. It dictates that every task, operation, and process is being managed in accordance to set standards, thus ensuring the highest level of quality, security, and professionalism at each step.
There are conventional ways of treading through a compliance journey, but they have many limitations. CaaS, on the other hand, makes the path easier, faster, and much more insightful for teams and employees working at all levels of the enterprise.
Let Trustro help you get there - and further ahead. We're here to eliminate the complexities of compliance - book a demo with our team today!