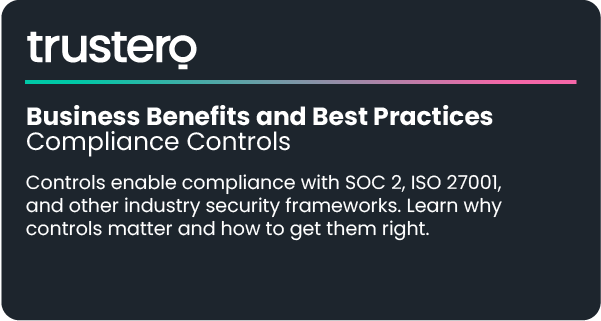 Compliance Controls: Business Benefits and Best Practices
Compliance with frameworks such as SOC 2, ISO 27001, FedRamp and HiTrust credibly demonstrates your organization's commitment to information security and protection. This makes your business more trustworthy and attractive to customers and partners. Controls are how you achieve compliance with these frameworks.
You need to implement and manage a lot of controls now. You will probably need even more in the future, at this company or another. Team Trustero is here to help. Our blog series on controls addresses some of the most challenging, to help you understand them, collect evidence to satisfy your auditor, and run your business better than ever.
Controls: What They Are and Why They Matter
Controls are the "knobs you turn" to run your business. Their existence ensures your business is living up to its compliance-related promises. Your controls exist to bring your organization into alignment with the frameworks industry trusts. You simply cannot align with those frameworks without successfully implementing their controls. As you develop, you'll need more controls so that what you do measures up to what others would like to see you do.
A control can take various forms. Examples include limiting access, documenting a process, or ensuring that you have contingency plans that are up to date.
Each SOC 2 control has an objective, which should be defined carefully with your auditor. Think of the objective as a legal contract: you have to honor its terms very specifically. So you'll have to be careful whether you say you'll do something "quarterly" or "annually" or just "regularly."
Controls may seem like little more than annoying administrative distractions, but they are essential to achieving and sustaining compliance and its business benefits.
Your Trustero Customer Success team will work with you and your auditor to focus on the controls most relevant to your specific business characteristics and information protection goals. Trustero Compliance as a Service (CaaS) offers suggestions about what specific evidence, tests or both you'll need to get a control working.
Controls and Policies
Controls and policies are closely related. Your policies state why your organization has adopted a specific framework and identifies any applicable regulations. Your policies are like promises that must be backed up and enforced with routine actions tracked by your controls. Essentially, policies say what you'll do but controls make those statements a bit more concrete.
Your policies establish your credibility and will be the basis on which an auditor assesses your controls. That assessment intends to answer one fundamental question: does your company do what it says it does to protect and secure information?
Trustero offers a full set of auditor-vetted policy templates to get you up and running with quality content. Store version histories, track edits, modify templates to match your practices, share current states, and never feel adrift starting at a blank page.
Controls: Challenges to Success
Some controls are clear and simple. A control requiring that you post job descriptions during recruiting, for example, should be clear and easy to collect evidence for.
Sadly, many controls are hard to understand. They are written in highly conventionalized jargon, using common words like "resource" or "procedure" as if they had a very specific, non-negotiable meaning. Like lawyers or accountants, auditors have developed a specialized language over time and sometimes it feels like you're paying them just to translate it back into English for you.
Trustero CaaS explains every control in clear, plain language. The platform then tells you how to handle it, suggesting specific evidence you can grab for this, and listing ways that auditors commonly test your evidence. Knowing what the control really means is half the battle!
Some controls are easy to understand but difficult to implement. Asset Inventories are a simple concept — a complete list of all your information-related assets. But the work they require can really come down to "Label every one of your documents and computers with its permitted level of data secrecy, and keep those labels accurate and up to date."
SOC 2's Risk Assessment requirements are similarly easy to grasp initially, but take real effort to satisfy. These are controls that require you to change how you do things, which is one of the most meaningful challenges of compliance.
Other controls leave you guessing. They may not say everything you need to know to get them right. They may relate to other controls in a particular way that you don't see. And you can often implement a control in a number of different ways. For example, a control might say you provide "strong options" for security or that you "document and approve" changes. The Trustero platform is designed so you're never left confused. There's always a clear next step.
Controls often describe layers of administration you don't have experience with yet. Examples include controls related to a Business Continuity Plan, an Internal Audit Team, an Incident Response Policy, a Vendor Risk Assessment, a Defined Information Security Team, or an Information Security Management System (ISMS).
How Trustero Can Help
At Trustero we want to make it easier for people like you to establish and manage the controls your business needs. Success with controls is good for you and your company. Achieving and sustaining continuous compliance with key frameworks such as SOC 2 and ISO 27001 makes your company more trustworthy. It keeps your critical information secure, even as threats grow and evolve. Continuous compliance also improves business performance and agility by helping to keep key business processes aligned and effective.
When successfully implemented and managed, controls also deliver benefits beyond your company. Every participant in every value chain that includes your company benefits from every improvement you make in information security. Continuous compliance reduces opportunities for both honest mistakes by authorized users and bad actors.
Trustero Compliance as a Service (CaaS) is a cloud-based, AI-powered compliance automation solution. It includes multiple features beyond those mentioned above to ease and speed your journey to compliance with SOC 2 and ISO 27001, and with other key frameworks in the near future. Trustero also offers service and support options that can help you import existing controls, migrate from other tools, and get a complete SOC 2 audit report from one of our certified, reputable auditor partners.
If you're new to SOC 2, download a copy of our free ebook, "SOC 2 Compliance: Why it Matters and How to Get There." If you're already familiar with SOC 2 controls, click here to learn more about Trustero CaaS or to schedule a demo. Wherever you are in your compliance journey, Trustero is here to help.